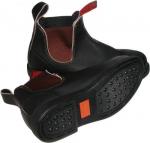 IMPORTANT: All Rossi Boot sizes shown on this site are adjusted and presented as USA sizes. If you already have a pair of Rossis, the Australian size on your boot bottom is 1.5 sizes smaller than the comparable USA size. Therefore, if you want to match an AUS (Australian) sized boot with a 9.5 size on the boot bottom, please order a USA size 11.


FREE UPS GROUND SHIPPING in USA. FOR EXPEDITED SHIPPING BY ANY OTHER MEANS, PLEASE CALL FOR QUOTE.
Be good to hardworking feet -- Aussie style. Now you can discover what all the foot fuss is about right here in the USA. At Simply Oz, we stock a wide selection of Australian-made Rossi Boots. For more than a century, Rossi Boots have been synonymous with comfort, safety and style.
From the full grain leather to the famous air cushion sole, the difference is in the details. The superior molding, greater traction, and trademark reinforced back strap all add up to the best made boots you'll ever wear. Be sure to check out our Rossi sock protector and Dubbin boot wax too!
We love hearing from our customers. Here's the latest feedback on Rossi Boots:
"As a bona fide slip-on owner, I find that no boot brands cut the mustard like Rossi. The comfort is excellent, the durability puts others to shame, and they look good, too. For almost 18 years I've been trying and tracking various brands. Rossi is still a family-owned and run company and that reflects largly in the end result. I wear my boots for construction and gardening and they are not pampered." Nicholas L. Mello, Nipomo, CA
Simply Oz says: "Thanks, Nicholas! Your boots may not be pampered, but we're glad to know they're pampering your feet!"

Get the feeling of walking on air with Rossi's unique air cushion sole