Stay-Cool Cobber Neck Wraps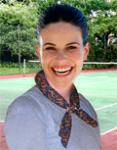 What is a Cobber?
In Australia, a Cobber is a good friend. Our Cobber products are made of polyester and cotton and are filled with poly-crystals. By simply placing your Cobber in clean water for approximately 30 minutes and allowing the crystals to expand, it will produces an evaporative cooling system that will keep your body cool.
Cobber products lower the body temperature by cooling your skin. The material may become warm against the skin but by simply rotating the wrap, the cooling effect is rejuvenated immediately!
Benefits:
Non-toxic ... Does not require refrigeration ... Stays cool for up to 3 days ... Environmentally friendly ... Can be used hot or cold ... Reduces headache pain ... Improves quality of life ... Improves working productivity ... Re-usable for many years ... Relief from excess warmth is instantaneous ... Great for Stress relief, while city or long distance driving and airline travel ... Helps relieve swelling due to sprains of the ankles and wrists ... Provides relief from hot-flashes due to pregnancy or menopause.
Take your Cobber anywhere and use it anytime!
Stay-Cool Body Cooling Neck Wrap (Cobber)

The Cobber Body Cooling neck Wrap is an original authentic Australian design that has been successfully sold over the past six years to aid against heat discomfort.

US $11.97 6.97 (Sale - $5.00 OFF - Cobber Closeout!) - More...