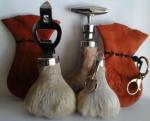 Looking for an unusual gift? They'll definitely talk about these!
The kangaroo has always been a very important animal for Australian Aborigines, for its meat, hide, bone, and tendon. Kangaroo hides were also sometimes used for recreation; in particular there are accounts of some tribes (Kurnai) using stuffed kangaroo scrotum as a ball for the traditional football game of marngrook.
A collision with a vehicle is capable of killing a kangaroo. Kangaroos dazzled by headlights or startled by engine noise often leap in front of cars. Since kangaroos in mid-bound can reach speeds of around 50 km/h (31 mph) and are relatively heavy, the force of impact can be severe. Small vehicles may be destroyed, while larger vehicles may suffer engine damage. The risk of harm to vehicle occupants is greatly increased if the windscreen is the point of impact. As a result, "kangaroo crossing" signs are commonplace in Australia.
Vehicles that frequent isolated roads, where roadside assistance may be scarce, are often fitted with "roo bars" to minimise damage caused by collision. Bonnet-mounted devices, designed to scare wildlife off the road with ultrasound and other methods, have been devised and marketed.
If a female is the victim of a collision, animal welfare groups ask that her pouch be checked for any surviving joey, in which case it may be removed to a wildlife sanctuary or veterinary surgeon for rehabilitation. Likewise, when an adult kangaroo is injured in a collision, a vet, the RSPCA Australia or the National Parks and Wildlife Service can be consulted for instructions on proper care. In New South Wales, rehabilitation of kangaroos is carried out by volunteers from WIRES. Council road signs often list phone numbers for callers to report injured animals.
Unlike many of the smaller macropods, kangaroos have fared well since European settlement. European settlers cut down forests to create vast grasslands for sheep and cattle grazing, added stock watering points in arid areas, and have substantially reduced the number of dingoes.
Kangaroos are shy and retiring by nature, and in normal circumstances present no threat to humans. In 2003, Lulu, an eastern grey which had been hand-reared, saved a farmer's life by alerting family members to his location when he was injured by a falling tree branch. She received the RSPCA Australia National Animal Valour Award on 19 May 2004.